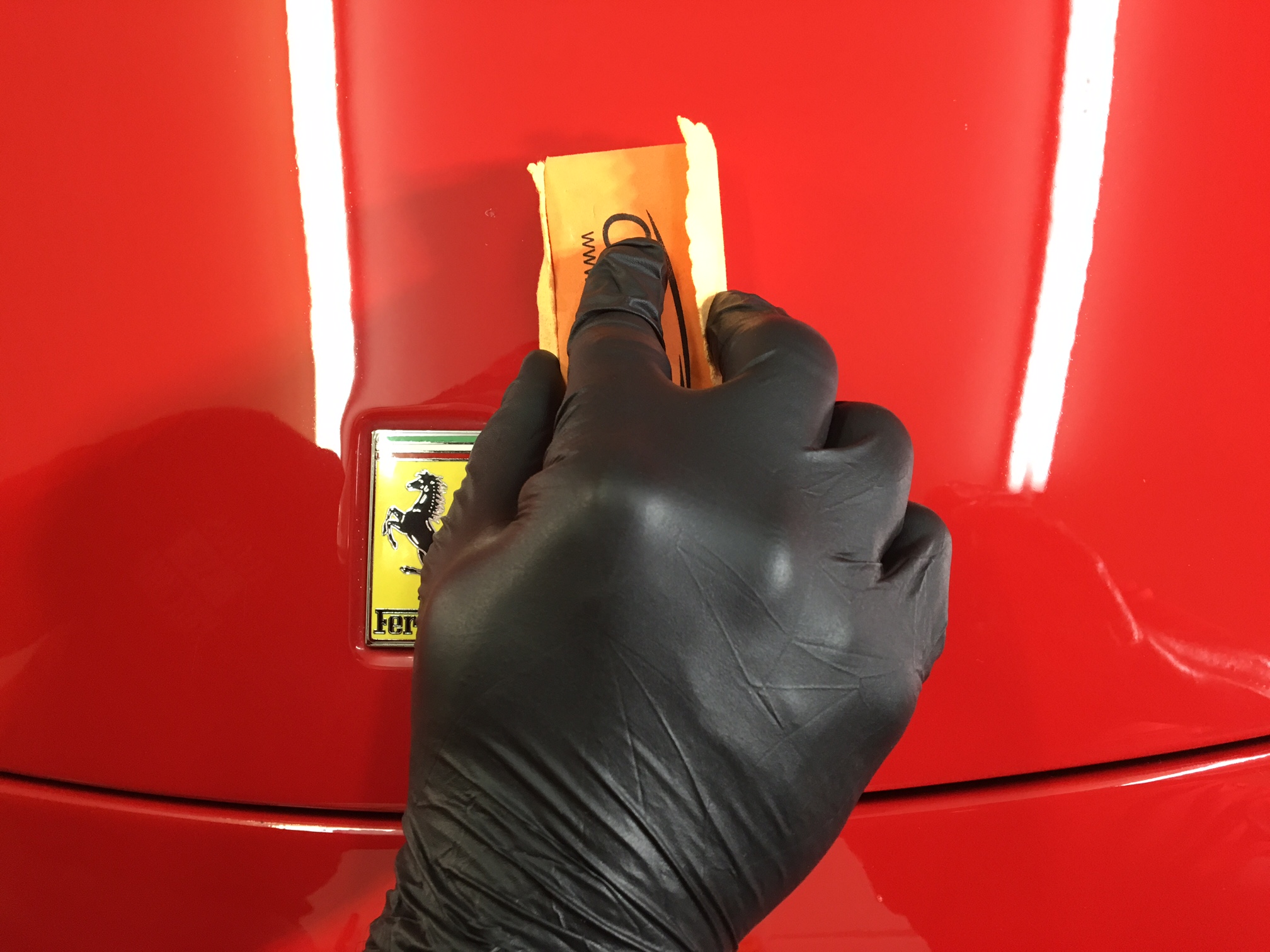 Ceramic coating is a paint coating that protects virtually any surface from dirt and sun exposure. This hybrid coating delivers automobiles, aircraft, boats and recreational vehicles a unbeatable defense from the elements.  ​
August Precision's Ceramic coating is a nanoactive coating that chemically bonds to the vehicles clear coat, becoming the functional surface layer of the paint. Ceramic coating last 10x times longer than dealership paint sealants and wax; creating a high-gloss, swirl free scratch defense.​
​August Precision's Automotive Appearance Specialists™ use the finest products in our ceramic coating services, for this reason we have elected to use Opticoat, Gtechniq, Cquartz, Gyeon, 22ple and BEED'S nano ceramic coating product as our product of choice in providing this service.
Ceramic Coating can be applied to Painted Surfaces, wheels, plastic trim, windshields (front side and inside windows), headlights and Chrome surfaces. Treatments generally lasting from 1- 3 years depending on storage and maintenance.  Coatings are reapplied less frequency than waxes or sealants.  However, waxes or sealants can be applied on top of the coating treatment to enhance the protection of the treatment and overall greater investment.
Making the best decision to have August Precision's Automotive Appearance Specialists™ ceramic coat your wheels will be one of the smart decisions you can make in giving your vehicle the ultimate shine finish.  August Precision uses Gtechnique C5 Wheel Armor to provide maximum protection against dust and dirt particles.  This product forms as an outer layer on the wheels acting as a resistant solution to natural elements.  Independently proven to outlast other rim coatings, Gtechniq C5 Wheel Armor uses a unique chemical bond to become the functional surface of your rims a single application lasts up to one year.
Gtechniq C1 Crystal Lacquer  is different than other coatings because it bonds so tightly that it actually becomes the functional surface of your vehicle's paintwork. We use this product to give your vehicle maximum protection lasting up to 10x longer than dealership paint sealants.  Crystal Lacquer offers extreme gloss retention, scratch resistance, water and dirt repellency, and UV protection.  This product has proven to outlast other waxes and sealants with it's self-cleaning action. Crystal Lacquer offer longer protection against marring the paint and offers an impeccable finish.
Gtechniq G1 Clear Vision Smart Glass  provides a clear, protective coating over glass to keep windshields cleaner and clearer. The use of this product results in less smearing on glass surfaces.  It bonds with the glass to create a slick barrier between the glass and the elements.  Clear Vision Smart Glass can be used in all weather conditions.  No matter what the conditions are outside, Gtechniq G1 Clear Vision Smart Glass helps keep your windshield clearer. In addition, natural elements are easily removed resulting in a clear window polish.
GTechniq EXO is a paint coating that protects virtually any surface from dirt, sun exposure, and moisture permanently. The hydrophobic coating stands up to windshield wiper usage for up to 2 years. It not only provides maximum protection against the sun but its shiny gloss effect gives you vehicle an impeccable polish look better than any wax or sealant. Lasting up to 2 years against the sun's ultra waves.
Car Pro ReloadSpray gives your vehicle the ultimate in gloss appearance.  Reload Spray Sealant forms a thick, substantial coating. In fact, a Reload coating helps prevent fine scratches on paintwork. It can also be used on rubber, plastic, and glass. Can be sprayed on wet or dry surfaces.  Reload Spray Sealant is a fast, cost effective way to keep your vehicle well-protected and looking its best.  This spray works as a repellent against dirt and water.  
Opti-Seal cleans, seals, polishes and correct the paint's surface while giving your vehicle the Ultimate glossy shine. Opti-Seal is not your ordinary wax but acts as a sealant to vehicle maximum coverage.  This one step application guarantees to protect the paint against natural elements with a fine finish. This revolutionary product will eliminate (not hide) minor paint imperfections and blemishes while creating a perfect shine on all types of paint. As a bonus the product will last for months with regular maintenance.  
CarPro Cquartz Fabric Coating provides the utmost protection against fabric surfaces.  This treatment guards against liquids, body oils, water and dirt.  We simply spray on the surface and it does it's protections.  Cquartz Fabric coating transforms the substrate into a super hydrophobic surface causing water and other liquids to bead up and roll off. The surface is left unharmed and perfectly dry.  This product is used on furniture, convertible tops care seats and textiles.
Leather Guard creates a clear protective coating on leather seating that resists soiling and dye transfer from blue jeans. Leather Guard is a cheap insurance for keeping one of the most costly options available in new car's leather trim looking new.  Maintaining your leather has never been easier by simply using a damp microfiber towel to wipe any spills.  Leather coating guards against every day driver use including sun exposure.  Forming a protective barrier against leather and vinyl surfaces it is the most durable leather protect available. Promises to protect against juice, dyes, super glue and much more.
Gtechnique C4 Permanent Trim Restorer formulates to become apart of the plastic to restore trim and like new conditions.  Once applied by August Precision's Automotive Appearance Specialists™ this chemical bond ensures maximum durability.  Other trims sit on top of the plastic, C4 becomes apart of the plastic.  C4 Trim Restorer will renew the color of the trim causing your trim pieces to look brand new while adding a natural glossy shine.
The August Precision Ceramic Coating Process
Step 1: We Clean Your Car!
The first step for any detail job is ensuring that you are working with a clean surface and that is no different for applying a coating. Start off by washing your car and doing any paint decontamination needed.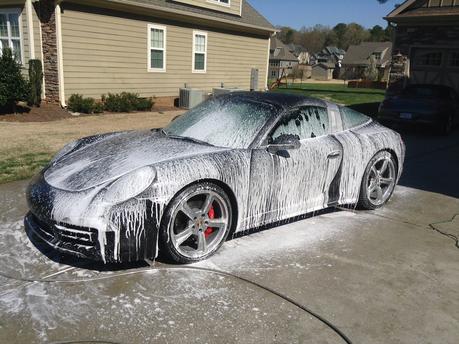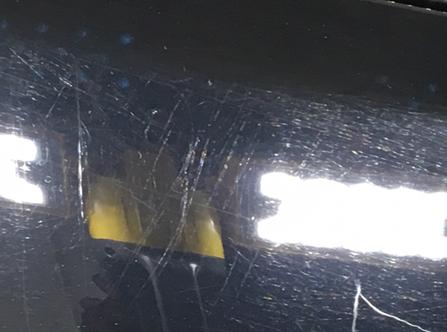 Step 2: We Remove Paint Defects
Since applying a coating will bond over your paint, it is necessary to remove any paint defects before applying the coating. Use a Swirl Finding Light, like the Scangrip Sunmatch to inspect your paint for scratches, swirls and any other defects that you want to remove.
Step 3: We Prep Your Automobile's Surface
One of the most important steps to ensuring proper cohesion on a Paint Coating, is prepping your Surface using the manufacturer's recommended cleaners. Some manufacturers have a spray and wipe product to use before applying your coating, such as Wolfgang Perfect Finish Paint Prep while others have a liquid polish that can be applied by hand or machine, like Polish Angel Invincible Primer. Click here for more information on Paint Correction by August Precision.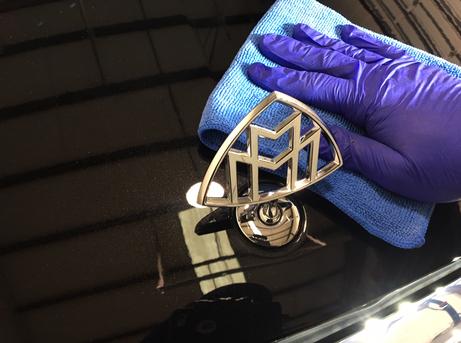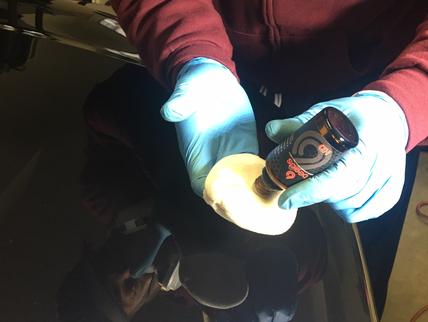 Step 4: We Apply the Coating
Once your surface has been prepped, you are ready to apply the coating! Apply a thin layer of your coating onto the paint – one panel at a time. After allowing your coating to flash for approximately 2-3 minutes, wipe off any excess using a microfiber or suede towel. Repeat this process around the entire vehicle. After the coating has been applied it is necessary to keep your car dry for 24 hours for the coating to fully bond.