Yacht and RV Services
August Precision will maintain your Yacht and RV's appearance through our specialized process.
Wash-Totally different from your average Boat and RV washing services!! August Precision does not use automotive products that are meant for clear coat or gel-coated boats. We use only the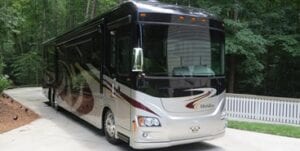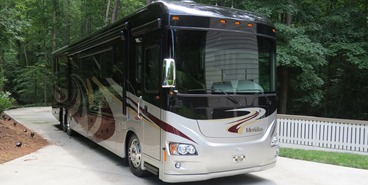 finest professional marine and RV products available used to erase salt water particles and some chalkiness off your Boat/RV while protecting your gel-coat. The simplest form of maintenance is having your boat and/or RV washed and protected regularly.
Compound & High-Speed Polishing-compound removes light oxidation, chalkiness and faded gel coats. This polish will restore your faded color to its original luster. Each compound process is determined by the age of the gel coat and condition. Some boats and/or RVs may need a light compound, as others will require a medium to heavy duty compound. August Precision uses a 2-3 step process to bring your gel coat to it's original condition.
Oxidation Removal-For gel or clear coats that have been neglected, even the most aggressive compounds will not completely remove heavy oxidation and/or scratches. August Precision uses a 3-4 step process of wet-sanding the gel coat removing all oxidation and most scratches. We follow that by a 2-3 step process of compounding, to bring back the gloss. Then we polish your gel or clear coat which removes most scratches or imperfections and prepares the surface to be sealed. The process is finished with the application of a professional marine grade caranauba wax (3 months of protection with the proper care) or Extreme glass coating (EGC), which is a hybrid of a chemically bonding hard inorganic base coat and highly dirt and water repellent organic top coat. Extreme glass coating provides up to 1 year of protection and amazing shine for your investment. This service truly brings boat detailing to a whole new level.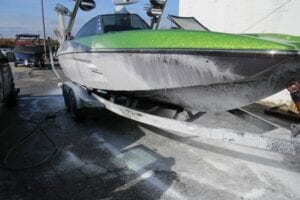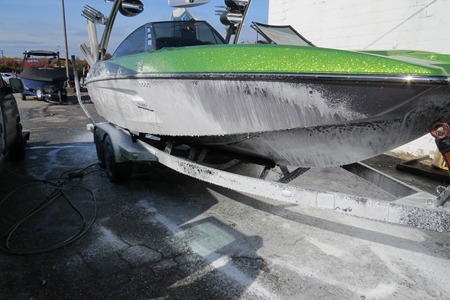 Stainless Steel Restoration-Bow rails, cleats, T-Tops & Towers -Our Stainless steel restoration service removes most rust and tarnish surfaces. Your stainless steel will sparkle while being protected against future rust and erosion.
Vinyl & Leather Cleaning- Upholstery cleaning, mildew removal and conditioning of all leather and vinyl. Once vinyl and leather are cleaned, our UV protectant and conditioner will ensure they remain like new and protected against the elements.
Engine & Bilge Cleaning-We provide a full engine room/bay cleaning service. We degrease the engines, engine room/bay and condition the engines with a protective coating. If required, engines can be repainted before adding a protective coating.
Boat Services
Wash Only
(Charged by linear foot)
Wash/Dry
Interior Wipe down, light Vacuum
Clean Windows
Wax
(Charged by linear foot)
Wash/Dry
Clay Bar
Wax
Interior wipe down, light vacuum
Clean windows
Mini Detail 
(Charged by linear foot)
Wash/Dry
Clay Bar
Fine cut polish boat hull (removes light scratches and light oxidation)
Apply polymer Gel Coat Sealant to hull (wax)
Vacuum
Wash down Interior
Clean out all cubby holes and tanks
Clean Windows
RV Services
RV Basic Wash
(Charged by linear foot)
Hand wash/Dry entire RV Including the roof, awing & slide outs
Clean and dress tires
Clean and dress rims
Clean ALL exterior Window surfaces
Light Vacuum
RV Wash & Wax
(Charged by linear foot)
Hand wash/Dry entire RV, including the roof, awing & slide outs
Clay Bar
Apply wax, including roof & slide outs
Clean and dress tires
Clean and dress rims
Clean ALL exterior windows surfaces
Light Vacuum