Automotive Appearance Services
August Precision is dedicated to providing the finest automotive restoration services for your vehicle. August Precision's Automotive Appearance Specialists™ have the experience, expertise and quality products to restore your vehicle's appearance.
Marshall, Chris, and the rest of the team have made the experience of getting the paint on my Viper corrected and ceramic coated just about as pleasant as humanly possible. You can really tell when someone is passionate about what they do and the work speaks for itself. Couldn't recommend August Precision any more and I will definitely be making them my go-to for any detailing needs going forward!

Thanks to Chris and Marshall for the paint correction and ceramic coating. They made my 3-year old car look brand new, fixing all the little dings and scratches that had bothered me for years. Whole team is straightforward and great to deal with, would recommend them to anyone looking for work on their car.

Marshall, Chris, and Team at August Precision did a fantastic job on my brand new 2021 Tesla Model S by providing a new car detail, ceramic coating, and window tinting. The service was timely, getting me in one week after picking up the car, and the final results were stunning! You can trust them with your prized possession, this is my dream car, and I couldn't be happier with the finished product! If you have a new car, definitely consider the ceramic coating and car detail. These guys are fantastic! Marshall makes you feel like you are his only client, checking in and keeping you updated on the process. I truly could not be more pleased with the work!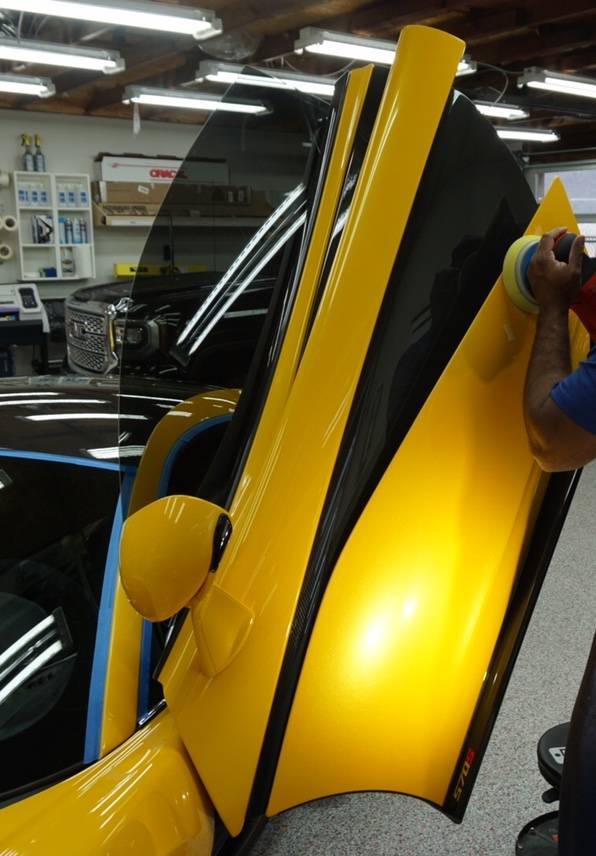 Frequently asked questions
What's the difference between a detail & a car wash?
With a standard car wash the exterior of the automobile is hand washed and dried, the carpet is vacuumed, the cup holders are wiped clean and the seats are wiped. With a detail the exterior is decontaminated first, then a clay bar is utilized, and finally the automobile is hand washed, dried and waxed, the carpet is vacuumed and shampooed, the cup holders are deep cleaned, and the seats are steam or foam cleaned and protected with a leather conditioner, the result of which is an incredible transformation of your automobile.
How long does it take for the service to be performed?
The times below are simply estimates.  Larger vehicles and vehicles requiring significantly more work will increase these times.  A Simple Wash typically takes 1 hour to complete.  A Premier Wash typically takes 1.5 to 2 hours to complete. An Original Detail will take at minimum 2.5 to 3 hours to complete.  Paint Corrections take approximately a day to complete, and our Signature Detail takes 1 full week to complete.  Both our paint correction service and our signature detail must be completed on-site at our service location.
What are the names of coating products that you use?
How long does ceramic coating last?
A ceramic coating performed by an experienced specialist should last 2 to 5 years depending on the number of layers of the coating, and the upkeep and storage environment of the automobile.
The Automotive Appearance Specialists™ at August Precision offer luxury and exotic mobile car detailing services daily throughout the Raleigh, Durham Chapel Hill area of North Carolina, as well as the East of the United States by appointment. We come to you via our mobile detail operations unit, at any day and any time.
Our Automotive Appearance Specialists™ understand the extreme sensitivity of your car's appearance and we pride ourselves in performing a mobile car detailing service that cleans, corrects, and protects your automobile to extraordinary levels inside and out.
August Precision's passion and enthusiasm for proper car detailing, as well as our unparalleled knowledge of car cleaning, swirl and scratch removal, waxing, ceramic protection and much more has allowed us to develop a following of automobile, motorcycle, and RV owners and enthusiasts. Take a look at the variety of automobile brands cared for by August Precision Automotive Appearance Specialists™ on a regular basis via our Instagram feed.
We invite you to explore this site to get a better understanding of the benefits of professional level, show quality detailing, and to view our ongoing obsession with unimaginably clean and shiny automobiles.
August Precision operates within Raleigh, Durham, Chapel Hill, Cary, Apex, Carrboro, Clayton, Fuquay-Varina, Garner, Holly Springs, Knightdale, Mebane, Morrisville, Sanford, Smithfield, Wake Forest, and Rocky Mount North Carolina daily.  August Precision offers its full array of services up and down the East Coast of the US from Maine to Florida by appointment.